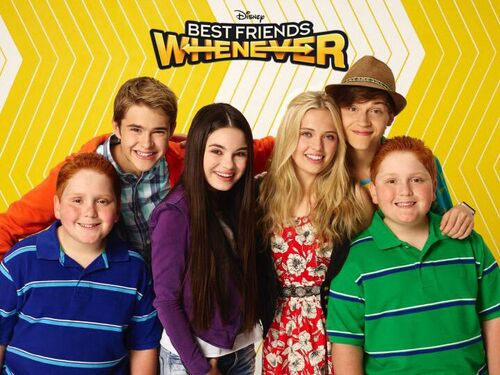 The following is a list of episodes of the Disney Channel original series, Best Friends Whenever. Created by Jed Elinoff and Scott Thomas, the show follows two girls named Cyd Ripley and Shelby Marcus are best friends living together while Cyd's parents are on an archaeological dig in Peru. After an accident in their neighbor Barry's science lab, they are given the ability to travel in time, provided they are thinking of the time they want to go and are together hugging or high fiving. Of course, when it comes to their trips to the future, they briefly find themselves strapped to tables in a lab, and now they must figure out what this means while having various misadventures along the way.
Series overview
No.
Ep.
Title
Original airdate
Prod.
code
U.S. viewers
(millions)
1
1
"A Time To Travel"
June 26, 2015
101
3.54
Shelby enlists Barry and Naldo to help create the perfect ambiance at school to ask her crush Cameron to the big dance. When the unexpected spoils her plans, Shelby and Cyd try to use their newfound power to travel back in time to fix everything.
2
2
"A Time To Cheat"
July 12, 2015
102
2.02

When 

Cyd

 and 

Shelby

 are having trouble studying for a difficult history test, they decide to jump ahead in time and nab the test questions. Meanwhile, 

Barry

 and 

Naldo

 find themselves in a hair-raising situation when they try to figure out how to make Barry's invention replicate time travel.

3
3
"A Time to Say Thank You"
July 19, 2015
103
1.96

When 

Cyd

 tries to plan a special thank you for the Marcus family, 

Shelby

 steps in to help with Hulu dancers, a rock band and jugglers and everything somehow leads to a big misunderstanding and a huge kitchen disaster.

4
4
"A Time to Jump and Jam"
July 26, 2015
104
2.01

rade, a special burrito that the school temporarily served. Shelby remembered it was the day a girl named 

Jen

 didn't invite them to her birthday party. Strangely enough, Jen actually did invite them this time which cause Cyd confusion. It turns out 2 years ago that Shelby hid the invitations because she thought Jen would be a bad influence on Cyd

5
5
"A Time to Rob and Slam"
August 9, 2015
105
1.87

When 

Shelby

's new lab partner, 

The Rob

, can't stop being mean and annoying, so after school Shelby and Cyd get Shelby angered up to trade insults with each other. After Shelby wins, she feels bad about hurting him and then the girls travel back in time to try and find out why he's such a jerk.

6
6
"The Butterscotch Effect"
August 16,  2015
106
1.67

Cyd and Shelby go back to change the past so that Barry can meet his childhood science hero. However, when they return, they realize Barry and Naldo have changed as well and are now terrible rock musicians instead of aspiring scientists

7
7
"Shake Your Booty"
August 23, 2015
107
2.03

When the girls are assigned to do a report on the 1970s disco era, they decide to travel back and experience the 70s firsthand and land in the midst of turf battle between the disco and punk kids. But after going to the past before they were born, changes their future forever and might never exist again due to them getting separated from each other causing them to forget each other thinking their part of that era. It's up to Barry and Naldo to save the future or it will all be ruined and they girls will be lost forever. Luckily for the girls, their bond was too strong it helps find each other and remember their friendship. It also brought the punks and disco together.

8
8
"Jump to the Future Lab"
September 20, 2015
108
2.09

Cyd and Shelby discover a major clue to the future lab memory and it is somehow tied to Barry's science idol, Janet Smythe, who also employs Shelby's dad. They follow Mr. Marcus into 

Globo-Digi-Dyne

 to find out if he is involved in the future lab.

9
9
"Cyd & Shelby's Haunted Escape"
October  4, 2015
109
2.18

Cyd and Shelby take a bite out of the Big Apple when they use Barry's new invention to teleport themselves to the NYC Central Park Spooktacular—only to end up trapped in a haunted house with 

Girl Meets World

's Riley and Lucas.

10
10
"When Shelby Met Cyd"
October 25, 2015
110
1.76

When Cyd and Shelby go back to kindergarten to celebrate their friendship anniversary and relive the day they first met, they begin to change back to their five-year-old selves.

11
11
"Cyd and Shelby Strike Back"
November 27, 2016
111-112
1.72

When Shelby and Cyd discover inventor and GDD CEO Janet Smythe is behind the future lab, they decide to fight back and travel to the past to stop Janet from starting the corporation. Their plan seems to work until they realize they also stopped other major events and causing their future even worst from happening in their lives, including them living separately from each other and Barry and Marci falling for each other.

12
12
"The Girls of Christmas Past"
December 6, 2015
114
1.33

Things spin out of control when Cyd travels back to Christmas the year before to try and figure out the perfect gift for Shelby. Meanwhile, Barry and Naldo's Winter Wonderland experiment sparks an elf war with Bret and Chet leading the charge.

13
13
"A Time to Double Date"
February 21, 2016
113
1.64

Cyd and Shelby use time travel to attend two different events on the same night; Cyd and Shelby's plan backfires when they meet boys at both events. Meanwhile, Chet and Bret switch bodies.

14
14
"Jump to the '50's"
March 20, 2016
115
1.61

Cyd and Shelby use time travel to attend two different events on the same night; Cyd and Shelby's plan backfires when they meet boys at both events. Meanwhile, Chet and Bret switch bodies.

15
15
"Diesel Gets Lost in Time "
April 17,  2016
116
1.55

When 

Diesel

 accidentally swallows a time travel tracker and disappears, 

Cyd

 and 

Shelby

 must track him down before he's lost forever.

16
16
"Fight For the Future, Part 1"
May 8, 2016
117
1.33

When the girls discover their future-selves have asked to lose their time travel abilities, they leap to the future and see that evil 

Janet Smythe

 is somehow involved. Meanwhile, 

Barry

 learns 

Marci

 is planning to break up with him.

17
17
"Fight For the Future, Part 2"
May 15, 2016
118
1.63

When 

Janet

 unexpectedly invites herself over to 

Shelby

's for dinner, the girls use the opportunity to find out what she knows about time travel.

18
18
"Fight For the Future, Part 3"
May 22, 2016
119
1.23

While 

Janet

 tries to uncover the secret behind time travel, the girls decide they need to take her down once and for all!
No.
Ep.
Title
Original airdate
Prod.
code
U.S. viewers
(millions)
19
1
"Princess Problems"
July 25, 2016
201
1.18

Cyd and Shelby discover a princess named Daisy from the 16th century has come through a time rift and is in their school!

20
2
"Worst Night Whenever"
July 26, 2016
202
1.12

Bret and Chet are nervous about attending the 6th-grade dance. With bad memories of their own 6th-grade dance, Cyd and Shelby go back in time to get a second chance.

21
3
"Epic Girl's Day"
July 27, 2016
204
1.24

Since it looks like their time-traveling princess may be here longer than expected, the girls decide to take Daisy on an official Shelby and Cyd "Epic Girls' Day" at the mall.

22
4
"Girl Code"
July 28, 2016
203
1.39

When Barry is too busy to help Shelby build her new website, Shelby must take matters into her own hands! Meanwhile, Cyd and Naldo win a boat and try to hide the huge cruiser in the backyard.

23
5
"Derby Little Secret"
July 29, 2016
205
1.26

When Cyd and Shelby go to a roller derby against Astrid's wishes, they find out that Shelby's mom has been keeping a secret.

24
6
"Night of the Were-Diesel"
October 2,  2016
211
1.36

When Cyd tries to protect Diesel from Barry's wolf serum experiment, she accidentally gets the serum on herself and turns into a menacing werewolf. Now Shelby must try and figure out how to get her best friend back before the she-wolf destroys their high school's Halloween carnival.

25
7
"The Friendship Code"
October 3, 2016
208
1.20

When Shelby and Barry compete against each other to have their latest innovations win at the Dax Fraggins Tech Pitch Fair, the aspiring scientist's ego causes him to be a jerk to fellow contestants and even his friends. 

26
8
"The Lying Game"
October 4, 2016
206
1.05

The time-traveling besties' friendship is in trouble when Shelby learns Cyd went to a concert without her and lied about it. Meanwhile, Bret and Chet try to earn their camping badges from the safety of their backyard.  

27
9
"Working Nine to Fudge"
October  5, 2016
210
1.25

Shelby and Cyd get their first jobs at a fudge kiosk at the mall, but the job is not all that Shelby thought it would be.

28
10
"It's Not Ye, It's Me "
October 6, 2016
207
1.04

When Daisy reveals that she's engaged to Sebastian, a young man she's never met, Cyd and Shelby decide to travel to the 16th century to help her break off the engagement.

29
11
"The Christmas Curse"
December 4,  2016
209
0.95

Shelby and Cyd are excited to plan the annual neighborhood Christmas party, which takes an unexpected turn when Daisy joins the festivities. Meanwhile, Barry plays Santa after the twins take the mall Santa captive.

30
12
"Revenge of the Past"
 December 11, 2016
212-213
0.94

Shelby gets trapped in the 16th century after trying to save Daisy from marriage, so the friends join forces to help rescue her. 
Community content is available under
CC-BY-SA
unless otherwise noted.