Welcome to the Official Best Friends Whenever Wiki!
Welcome to the official Best Friends Whenever Wiki, a collaborative encyclopedia for everything and anything related to Best Friends Whenever! There are 310 articles and we are still growing since this wiki was founded. The wiki format allows anyone to create or edit any article, so we can all work together to create a comprehensive database for the Best Friends Whenever franchise. Don't forget to visit this wiki's Guidelines before editing.

Today is June 22th, and there are 21,090 edits to this wiki. To write a new article, just enter the title in the box below.

<createbox> width=24 break=no buttonlabel=Create new article!

</createbox>
Sounds of Summer! Choose Your Favorite Event!
On the Disney Channel Wiki, they are posting a blog about their favorite moment in Sounds of Summer (song). Please visit the blog here:
Sounds of Summer Top 10 Countdown
and share you're thoughts! Please tweet on our wiki and use the hashtag #ShakeYourBooty to promote a Shake Your Booty the song! Please tell the wiki in 25 words or less why you like Shake Your Booty! Also dance with us!
| | |
| --- | --- |
| "Best Friends Whenever" centers on teenagers Shelby and Cyd, who when a science experiment goes wrong, become unstuck in time, leaping forward and backward whenever they want – and sometimes even when they don't. Now with the help of their next-door neighbor, teenage genius Barry, the girls must learn to master their awesome new power as they time-shift through high school. | |
Featured Character




"Cydney Ripley" is the deuteragonist of Best Friends Whenever. Cyd is a rebellious, glutton and an agressive 15 year old. She is very tough and she is street smart. Cyd is not good with studies but she sure knows how to master time travel. Cyd is confident all the time and always gets her and Shelby into trouble. Read more...




Featured Cast Member




"Gus Kamp" is a cast member who portrays Barry on Best Friends Whenever.He is in Nightine stories and was associated as Drake in Henry Danger as the antagonist. Gus has being given numbers of roles and he is a successful actor along with his role as Barry. Read more...

Featured Episode




Cyd & Shelby's Haunted Escape is an episode which will premiere on October 4, 2015. It is all about the girls gaining the power to teleport and go to the New York Centeral Spooktacular for a Halloween party. But, the girls get trapped in a haunted house with Girl Meets World's Riley (Rowan Blanchard) & Lucas (Peyton Meyer). Read more...

Featured Pairing




Shelby & Cyd is the famous pairing in Best Friends Whenever. They are best friends and how the power to time travel. They are complete opposites but they are accomplished time travel together.
Visit the poll archives to vote for your featured crew. Here is the link.
...that Best Friends Whenever will premiere on June 26, 2015?
...that Landry Bender played Cleo on the Disney XD comedy, Crash & Bernstein?
...that Lauren Taylor played Harper Rich on the Netflix show, Richie Rich?
...that the series pilot episode was originally called "Fairest of the Mall"?
...that Season 1 started production on March 20, 2015?
...that Ricky Garcia and Emery Kelly who plays Naldo & Cameron is in the band, Forever in Your Mind which competed in X-Factor US?
...that the first episode was supposed to be airing in January, 2016 but changed for unknown reasons?
...that the show premiered after the Disney Channel original movie Teen Beach 2?
...that Ricky will guest star in an episode of Girl Meets World?
...that Forever in Your Mind sing the theme song, Whenever?
...that Benjamin and Matthew Royer were in an episode of Sam & Cat?
...that Gus Kamp appeared in an episode of Henry Danger?
...that Best Friends Whenever got Officially cancelled after two seasons by Disney
Next Episode

No new episodes
Twitter
Follow us to get a special gift from the admins!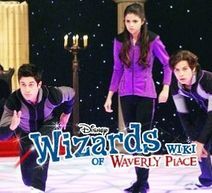 Refresh for another recommendation