2012 was a year starting on a Tuesday, the 2012th year of the After Death (AD), the twelfth year of the third millennium, the twelfth year of the 21st century, and the third year of the 2010s decade. This year comes after 2011 and before 2013.
Description
2012 is a point in time in Best Friends Whenever. It was first shown in Worst Night Whenever when Cyd and Shelby travel 4 years back to visit their sixth grade dance.
Differences from the Present
Barry is still the shortest and did not get his growth spurt.

Similarities to the Present
Naldo is as tall as he is now.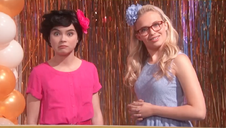 Trivia
This year is very similar to 2013.
Community content is available under
CC-BY-SA
unless otherwise noted.